Venice Book Fair - Info

10/01/2023

News / Eventi

Admin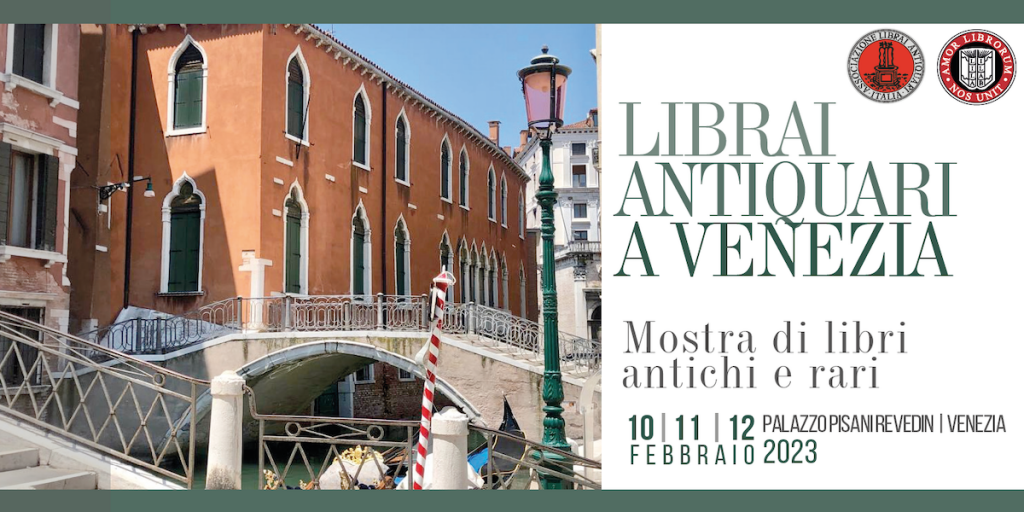 (Versione italiana
qui
)
ALAI and Antica Stamperia Armena are organizing LIBRAI ANTIQUARI A VENEZIA, a rare book fair that will take place February 10, 11 and 12 in Palazzo Pisani-Revedin in Venice. The event is sponsored by: Comune di Venezia, Biblioteca Nazionale Marciana, Ateneo Veneto, Ro.sa.m., Nova Charta, Studium and Brunello Cucinelli.

The fair will feature 30 antiquarian booksellers from all over the world, all from ILAB affiliated organizations.

During the fair, in the same venue, it'll be possible to visit an exhibition of rare editions of Giacomo Casanova, marking the 200th Anniversary of the first edition of his Memoirs.

List of Exhibitors:
Ai Tre Torchi di Giulia Beccaria (IT)
Alessandro Borgato (IT)
Alfea Libreria antiquaria (IT)
Antiquariat Michael Kühn (DE)
Antiquariato Librario Bado e Mart (IT)
Daniel Crouch Rare Books Ltd (UK)
Detlev Auvermann Rare Books (UK)
Fuad Audi (FR)
Gabriele Maspero Libri Antichi (IT)
Il Cartiglio di Roberto Cena (IT)
Il Muro di Tessa Studio bibliografico e Libreria antiquaria (IT)
Il Polifilo Libri Rari (IT)
La Carta Bianca Studio bibliografico (IT)
L'Albero del Riccio (IT)
Librairie Clavreuil (FR)
Librairie Jousseaume (FR)
Libreria Alberto Govi di Fabrizio Govi (IT)
Libreria antiquaria Coenobium (IT)
Libreria antiquaria di Porta Venezia (IT)
Libreria antiquaria Ex Libris (IT)
Libreria antiquaria Sonia Natale (IT)
Libreria Xodo di Barbara Xodo (IT)
MC Rare Books (NL)
Meda Riquier Rare Books (UK)
Mayfair Rare Books (IE)
Pingel Rare Books (FR)
Scriptorium Studio bibliografico (IT)
Studio bibliografico Zanfrognini (IT)
White Lands Rare Books di Luca Cena (IT)
Wonderland on Paper (AT)

Where:
Palazzo Pisani Revedin, Campo Manin, Venice (IT)

When:

Friday 10 February 2023 h. 14,00 / 20,00
Saturday 11 February 2023 h. 10,30 / 20,00
Sunday 12 February 2023 h. 10,30 / 17,00

Access:

TIckets €5
Visualizza file allegato